Testimonial From Clients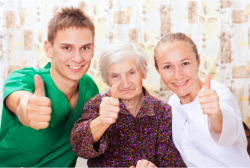 We are honored to know that we made a difference in your lives. We are inspired by your kind words to always be dependable when it comes to your needs. We will be posting testimonials on this page from time to time.
To Whom it may concern
Let this serve as a recommendation letter for Fiona Lyttle. She has worked for me in the capacity of Home Health aide and she is very experienced in her job. I rate her excellent in the care she provides and her attention to details. I would have no hesitation in referring her to someone who will have need of her services.
~ Lorraine London